My Summer Car Achievements
If you are looking to hunt down your remaining My Summer Car achievements then taking a look at the list below will hopefully help you out.
My Summer Car Achievements List
Party Time 
"Bottle of booze drank quickly." – Drink a bottle of hard liquor.
Case Solved
"24 bottles of beer consumed!" – Drink all 24 bottles of beer from one crate.
Magic Portal
"Somehow you don't remember anything." – Drink so much alcohol that you pass out.
Welcome to Finland
"You just experienced a Sauna." – Get the Sauna working.
Golden steam 
"Enjoy the smell." – Pee on the sauna stove until it steams.
You have a new friend!
"He is drunk, so he must be a friend." – Successfully pick up and drop off your drunk neighbor from the pub.
Money well spent
"Better luck next time." – Fail the Car Inspection.
Responsible citizen
"You got your car through inspection" – Pass the Car Inspection.
It runs! 
"Your car actually started, good job!" – Successfully start the Satsuma up for the first time.
And it is gone!
"Say goodbye to your saves." – Die with perma-death active.
I am coward
"No permanent death for you." – Start the game with perma-death turned OFF.
Proud to be mortal
"When I die, I die for good" – Start the game with perma-death turned ON.
Dakar rally
"you just keep on going." – Piss in the radiator.
Sliding Swede 
"Coming after Flying Finns!" – Finish the rally in 3rd.
First loser 
"Coming second is just a first loser." – Finish the rally in 2nd.
Flying Finn
"Top breed of racing drivers." – Finish the rally in 1st.
Don't answer that call
"Thunder called you and you got killed." – Answer the phone during a thunderstorm.
Jackpot!
"Maybe you should try the lotto too?" – Win the maximum prize from a Slot Machine.
Rusting Fast 
"Over 200km/h with the Satsuma!" – Reach 200km/h in a heavily modified Satsuma.
Ultimate survivor 
"Drinking your own piss like a pro." – Drink your own piss.
Grand Theft Teimo 
"you little punk!" – Rob Teimo's Shop. Currently not available.
Full of crap 
"10 000 litres of crap. Good job!" – Fill your septic truck up to it's max capacity (10,000 liters of crap).
Finnish wedding 
"Your traditional wedding condition." – Drink a lot of alcohol.
Working man's Saturday 
"Time to relax." – Drink the liquor from the barn or any bottle of hard liquor.
An idiot
"An idiot is definition of you." – Break the Shop Glass.
Poor people go away 
"A real money man." – Spend over 2000 mk in the Shop.
Thank you government
"Crime is for poor people only." – Pay a high ticket.
Pimped!
"That really does it." – Put the pink plush dash cover in your car.
A true hillbilly
"Shopping groceries with style!" – Drive with the tractor to the shop.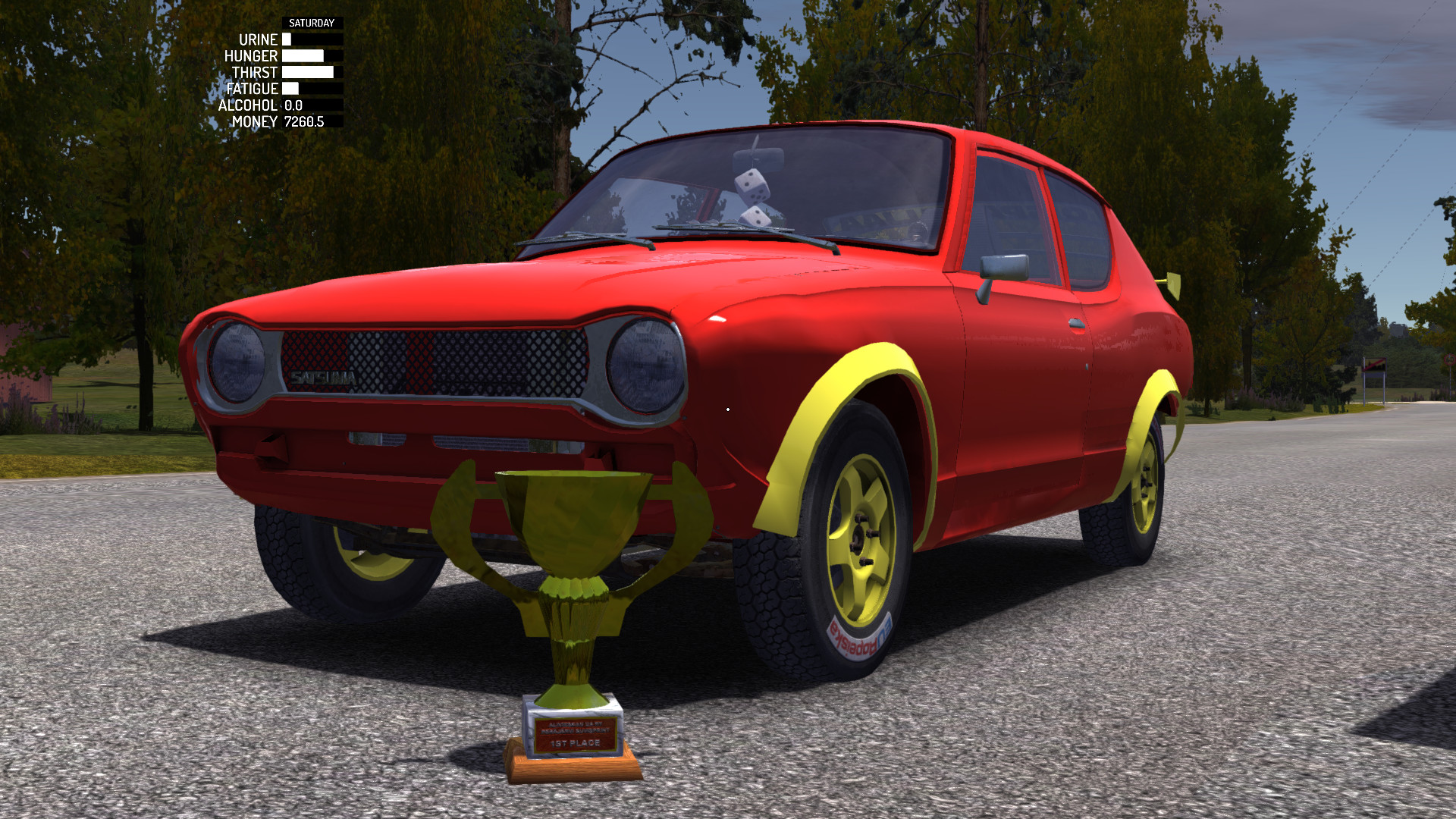 You may also like:
At Gameratedgames.com, what we are trying to create is a community where Gamers from all other the world can find game reviews by gamers and unbiased, truthful opinions and ratings of old and new games.
Latest posts by gameratedgames (see all)