One of the newest games in the ever popular zombie survival genre, 7 Days to Die allows you to explore and survive in the massive open world setting of "Navezgane" or in a randomly generated 7 Days to Die Map.
The area of Navezgane is huge and is home to lots of different environments that require different skillsets and levels of preparedness to explore. With such a large and varied area to explore in a hostile environment a map is very important. The below 7 Days to Die map of Navezgane details where to find different areas for shelter and the locations of different environments.
7 Days to Die Navezgane Map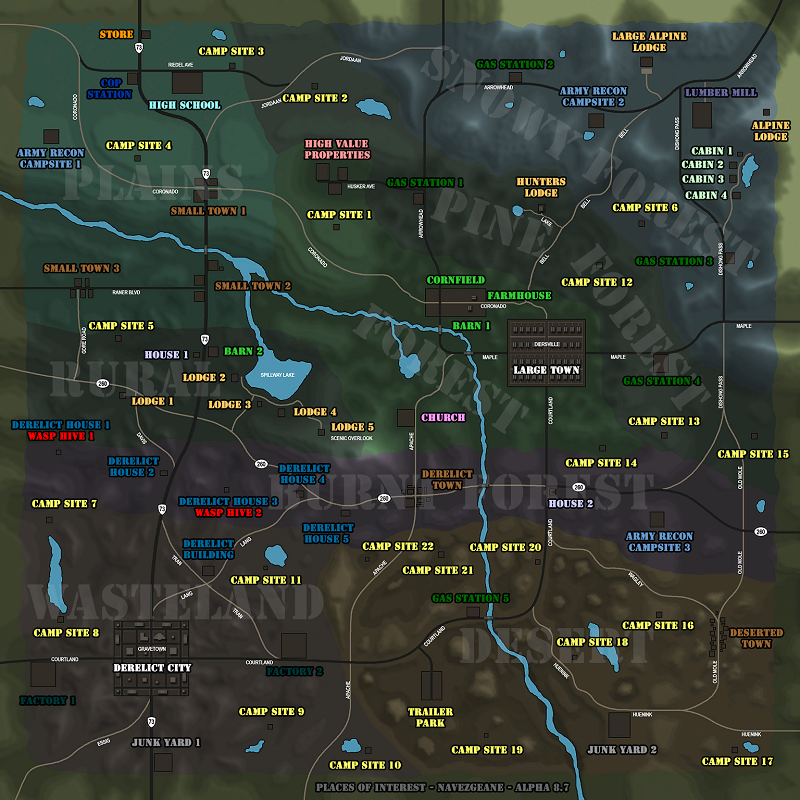 If you want to know more have a read of the games official description below:
7 Days to Die has redefined the survival genre, with unrivaled crafting and world-building content. Set in a brutally unforgiving post-apocalyptic world overrun by the undead, 7 Days to Die is an open-world game that is a unique combination of first person shooter, survival horror, tower defense, and role-playing games. It presents combat, crafting, looting, mining, exploration, and character growth, in a way that has seen a rapturous response from fans worldwide. Play the definitive zombie survival sandbox RPG that came first. Navezgane awaits!
You may also like:
At Gameratedgames.com, what we are trying to create is a community where Gamers from all other the world can find game reviews by gamers and unbiased, truthful opinions and ratings of old and new games.
Latest posts by gameratedgames (see all)